Do you consider yourself daring, are you looking for new sensations and do you like adrenaline? Then these heart-stopping destinations will suit you to a tee. Whether it's jumping off out of a plane with a parachute, going white water rafting on a fast-moving river or skiing down a spiny mountain. These thrilling experiences should be on your bucket list. Here are the most chilling experiences every adrenaline junkie should experience.
Take a Closer Look at Our Top 3 Experiences for Adrenaline Junkies
01.
Tandem Skydive by Into the Blue
Skydiving is most definitely reserved for the fearless. It's not every day you voluntarily throw yourself out of a moving aircraft at 5,000ft, is it? Into The Blue work with parachute and skydiving jump centres throughout the UK offering tandem, static line and accelerated freefall courses.
This nationwide skydiving voucher covers loads of venues around the country. Offering maximum flexibility, there's no need to choose which location you want to do your jump at when you buy your voucher. And when it comes to the falling out of the plane bit, the free-falling it's quite serene and you enjoy a floaty feeling. It only lasts for around 30 seconds, so try to relish every moment!
Positives
Allow spending a full day at the airfield
Locations available nationwide
Jump with an experienced tandem instructor using a dual harness
Negatives
Jump heights will vary depending on your chosen location and weather conditions on the day  
Most locations can arrange filming of your jump for an additional fee
02.
Xavage Park by Xcaret
At Xavage Park from Xcaret, you will choose between six activities to show your skills. Paddle a kayak along two circuits of canals, climb a Ropes Course with different levels of adventure and obstacles or fly through a zip-line in a horizontal position to enjoy the view from above. Board a Jet Boat that will take unpredictable turns, drive an all-terrain vehicle by unusual paths, and team up through the only whitewater rapids in Cancun and Riviera Maya.
Xavage is the new park in Cancun that has adventures for everyone. Whether you consider yourself an adrenaline lover, or just someone looking for a fun day out trying new things, you'll find something for you at Xavage. You can have the adventure your way, as all the activities can be done as many times as you like. Finally, you can satisfy your adventurous appetite without limitations, either at the Xnack or with a huge variety of food and non-alcoholic beverages at the buffet.
Positives
Children from 5 to 11 pay half the admission price
Delicious food and non-alcoholic beverages
Safety equipment for all activities
Negatives
Only sunblock and sunscreen containing titanium oxide and zinc oxide are allowed in the park
Bring cash or credit cards to buy souvenirs and for personal expenses
03.
Sky Lessons by SnowWorld
For many snow lovers, this is a much-desired getaway to change the routine. Perhaps with this post, more than one of you will be drooling, because there are beautiful places full of nature and emotion. One of those places is SnowWorld. In the park, you can ski 365 days a year, thanks to its incredible facilities in Netherlands.
Learn to ski or snowboard with all the personalised attention? Or are you perfectly prepared for winter sports with a group of friends? With a private lesson, hire an instructor for yourself or groups of up to 4 people. Every year, more than 300 qualified instructors give around 148,000 hours of skiing and snowboarding lessons at SnowWorld. Indoors you always get lessons in perfect snow conditions – book a lesson or course now and experience it for yourself!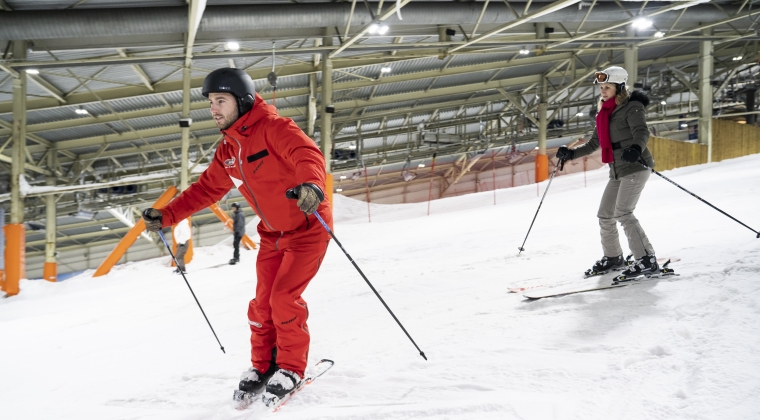 Positives
Skiing can improve your fitness
You can improve your coordination skills
Locations all over the Netherlands
Negatives
Tracks and instructors subject to availability
Injuries are rather common
Don't miss these adrenaline experiences! Enjoy your holidays with any of them and have an extremely fun time. Which one was your favourite? Take a chance!